As Saturday dawned and 40 homes across India woke up to the rest of their shattered lives, The Sunday Express reached the farthest of them all — a four-room island of green and yellow in the middle of Savalaperi in Tamil Nadu's Thoothukudi.

At the entrance to Savalaperi village, Saturday. (Express photo: Ajay Shankar)
Shared News: Updated: February 19, 2019 2:24:48 pm
On two large posters at the village gate, where he used to hang out with friends. On a chalk-lined patch of brown at the other end, which he had marked out for the kabaddi team. On a black plaque inside the temple, his unfinished gift to the Gods.


The black plaque inside the temple in Savalaperi village. (Express photo: Ajay Shankar)
Inside the heaving chest of his mother, her blouse drenched in grief over the loss of her youngest child, just 28 years old. On the slumped shoulders of his wife of 17 months, his last goodbye over the phone keeping her awake through the nights. In the pocket of his elder brother's pale red shirt, a passport-sized memory in uniform.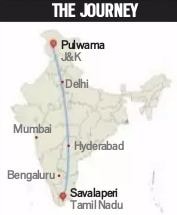 "He is 15 minutes away… the body," says Krishnasamy, the brother. The village stirs, mourners surge into the narrow street, a wail rings out – a final echo from the blast that targeted a CRPF convoy two days ago, killing 40 personnel.