With just one throw, Chopra qualified for the finals of the World Championships. Though overweight in the months after Olympics, Chopra shed 14 kilos, improved arm speed, honed his technique to have a real shot at history.
Shared News: July 22, 2022 6:28:52 pm
Neeraj Chopra, of India, competes in qualifications for the men's javelin throw at the World Athletics Championships. (AP)
As ever, it took just one throw for Neeraj Chopra to wrap up his day and qualify for the Sunday finals. History awaits. Since 2009, no one has had both the Olympics and World Championships medals wrapped around their necks at the same time.
In a back-breaking sport in which the slightest imbalance in alignment of the joints, limbs and torso can result in injury, finding the perfect balance between strength and flexibility is key, the search for precision technique a lifelong quest and the body impacted by extreme force while throwing the javelin, Neeraj Chopra is making big distances look easy.
Early birds too could have missed watching Chopra throw in a blink. At about 5:30 am on Friday morning, the 24-year-old Olympic champion donning a sky blue kit needed less than half a minute to seal his spot in the final of the World Championships with a throw of 88.39 metres.
Straight onto the final 💪

Olympic javelin champion @Neeraj_chopra1 🇮🇳 throws an automatic qualifier of 88.39m on his first attempt!#WorldAthleticsChamps pic.twitter.com/tOzsEwkxLS

— World Athletics (@WorldAthletics) July 22, 2022
He didn't tumble at the edge of the scratchline like he usually does but just used palms to arrest his fall. It took just one throw. There was no stress about the automatic qualifying mark of 83.50 metres.
When the second thrower Czech Republic's Jakub Vadlejch, the Olympic silver medalist, was getting ready, Chopra was winding down and looking forward to his first ever World Championship final.
Chopra, since winning the World Junior gold six years ago, has spoilt Indian fans by winning a medal almost every time he has entered a competition with the historic Olympic gold being the watershed moment for Indian track and field. At Eugene, Chopra's quest to add the World Championship gold to his CV, if successful, will make him one of the greatest ever.
He will become the first male javelin thrower since Norway's Andreas Thorkildsen in 2009 to be the title holder in both the Olympics and the World Championships at the same time. Before Thorkildsen, the legendary Jan Zelezny of the Czech Republic, was the owner of the two prestigious gold medals simultaneously.
Like in the qualifiers for the final at the Tokyo Olympics, Chopra looked in no trouble early Thursday. In Tokyo he had thrown 86.65 metres to make the final. His 88-plus throw on Friday morning was a metre and a half less than his national record of 89.94 metres. But in qualifying Chopra would not have gone all out though he said later that he wanted to get the job done with a big throw in the first round itself. He was only required to go beyond the automatic qualifying mark. That he could touch 88 metres is an indication that he can push further in the final.
Starting from scratch
Seeing Chopra unleash national records – he had broken it twice since returning to competition in June after the Olympics – it is easy to overlook how he was in a race against time to get back to his best after losing nearly four months in the off season because of felicitations around the country. He had to start from scratch in December when he reached Chula Vista in California. He wasn't in the best physical shape.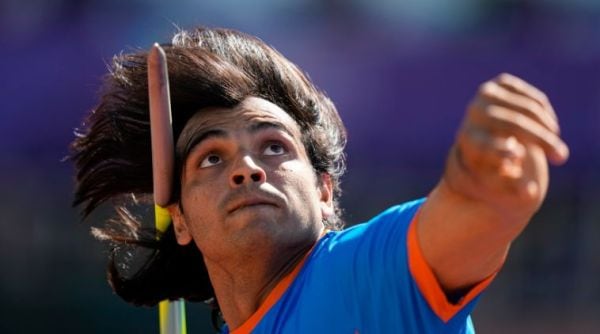 Neeraj Chopra, of India, competes in qualifications for the men's javelin throw at the World Athletics Championships on Thursday. (AP)
Almost 14 kilograms over his optimal weight and with a higher than acceptable body fat percentage for a world class thrower, Chopra's comeback began with a change of diet. Less carbohydrates, more protein were on his plate and refined sugar was a strict no. He didn't find it easy to cover three rounds of a 400 metre track but by controlling what he ate, burning fat and with weight training he became leaner. It took nearly a month and a half for him to start light throwing sessions.
Chopra and his team had to train smartly because of the paucity of time. He isn't as strong as he was during the Olympics, but he has made up for it by improving his natural arm speed, fine tuning his technique and also a better block of the leading leg before release of the javelin. The distances he has touched in a short season – three competitions before the world championships – left his coach Dr Klaus Bartonietz 'pleasantly surprised'.
Chopra has not been short on confidence either with two national records created in less than a month.
An 89.30 metres at the Paavo Nurmi Games, his first competition after the Olympics, to finish second, 86.69 on a slippery runway at the Kuortane Games for first place and 89.94 at the Stockholm Diamond League, just behind World Champion Anderson Peters of Grenada.
☝️ throw is enough!

Olympic champion @Neeraj_chopra1 🇮🇳 throws an automatic qualifier of 88.39m and heads onto the javelin final.

Live results 📊 https://t.co/KiF81ROvIy#WorldAthleticsChamps pic.twitter.com/m6Oamal2nD

— World Athletics (@WorldAthletics) July 22, 2022
Talking about what has worked for him this season as compared to the Tokyo Olympics, Chopra had said: "Back then my strength was more compared to today. If I talk about my strength in Tokyo, my full squat was 160 kilograms to 170 kilograms. Now I have done up to 140 kilograms because of the lack of time to build strength. This time the focus is on the technique. My strength is at a good level but the technique in throws is important, like the angle of the throw and that is helping me," Chopra said.
A lighter Javelin to help boost arm speed
Chopra has thrown with a lighter javelin in practice to help boost his arm speed. The standard javelin used in the men's event weighs 800 grams and Chopra uses one which is 100 grams lighter to work on arm speed.
"It is not easy to improve it (arm speed). My natural arm speed is good. We can't do too much exercise (to improve arm speed), but we can throw with light javelin. In practice after throwing with 800 grams javelin, I throw with a 700 gram javelin to see how fast the arm is. It is lighter and the arm will go faster. The angle of the javelin needs to be good (34 to 36 degrees) and the arm speed too. If arm speed is fast, the force will be transferred to the javelin," Chopra said.
Peters will once again be a formidable opponent in the final on Sunday morning. Competing in Group B of the qualifying round Peters threw 89.91 metres, the best among all throwers. The Grenadian, the defending World Champion, has the world leading throw of 93.07 metres at the Diamond League in Doha in March this year.
There is anticipation of Chopra going 90 metres and beyond and it is a question he has been asked time and again and the distance is at the back of his mind. There could be no better place than the World Championship final for an Indian thrower to break the barrier but funny things happen in a big final – like finalists losing their collective form or one set encountering headwind and another benefitting from a sudden tailwind.
Both Chopra and his coach Bartonietz have spoken with cautious optimism about going beyond 90m. Sunday could be a special day for Indian track and field in more ways than one.