From awarding her with toffees to introducing her to the 400m hurdles, the legendary athletics coach helped Usha come within the cusp of Olympic success.
Shared News: August 20, 2021 1:23:33 pm
When a young PT Usha first spotted OM Nambiar, the retired air force sergeant-turned-coach was wearing a cap and a coat while scouting for talent at a sub-junior meet. Usha recalls Nambiar vividly from that day because he was the only person wearing a suit despite the humidity.
A few months later, Usha and Nambiar would meet for the first time when, as a Class 8 student, she joined the newly-formed Sports Division in Kannur. The partnership between the coach and the athlete would become one of the most successful in Indian track and field history, taking her to the cusp of an Olympic podium finish, while minting gold medals in Asia.
On Thursday, Nambiar, 89 passed away at his residence near Vadakara due to age-related illness. But his legacy will live on as the coach who groomed Usha into one of the all-time greats.
The passing of my guru, my coach, my guiding light is going to leave a void that can never be filled. Words cannot express his contribution to my life. Anguished by the grief. Will miss you OM Nambiar sir. RIP 🙏🏽 pic.twitter.com/01ia2KRWHO

— P.T. USHA (@PTUshaOfficial) August 19, 2021
"The passing of my guru, my coach, my guiding light is going to leave a void that can never be filled," Usha wrote on social media.
"Words cannot express his contribution to my life. Anguished by the grief. Will miss you OM Nambiar sir. RIP."
Talking about her early days with Nambiar, Usha said on Thursday that she was first noticed by him because she could complete all the warm-up drills exactly as he demonstrated.
"He was a stickler for discipline. He closely watched how students were doing their warm ups. I made it a point to follow everything he said. Whoever did the warm-up drills the best would get a toffee. I am the one who got the most toffees," Usha says.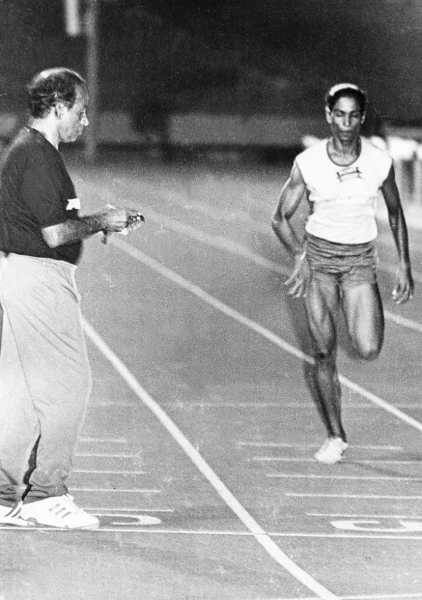 PT Usha during a training session with coach OM Nambiar (Credit: Usha's personal photo album)
She'd use some of his training methods when she started her own academy nearly two decades ago. Aspiring athletes training under Usha's tutelage would warm-up by running on the sands of the beach in Payyoli, where she had trained as a teenager with Nambiar. The last time Usha visited her coach was on August 8, the day after Neeraj Chopra won the historic gold in the javelin throw at the Olympics.
"He had been in hospital recently. So he was sedated and could not talk. But he opened his eyes and looked at me. I think he recognized me," Usha says of their last meeting. Right through the 1980s Usha and Nambiar became household names as she scorched tracks around the world.
Usha finished fourth and missed out on bronze by one-hundredth of a second in the 400m hurdles at the 1984 Los Angeles Olympics. Even getting that close would not have been possible without the vision and wise counsel of the coach.
Nambiar was keen to challenge Usha, who was still licking her wounds after bagging only silver in the 100m and 200m sprints at the 1982 Asiad in Delhi.
The coach, after studying Usha's stride pattern, told her she was suited for the hurdles, a relatively new event which was added to the Olympic roster for the first time.
The 1983 Asian Championships in Kuwait City is where Nambiar tested Usha's potential by making her run in the 400m. She won the gold, making Nambiar confident of his student being on the right track.
"Nambiar sir told me I have a good stride pattern and he said I have the potential to become a top 400m hurdles runner," Usha, 57, had told this paper earlier this year.
Though the bid to win an Olympic medal didn't work, Usha, with Nambiar by her side, won five gold medals and a bronze at the Asian Athletics Championships in Jakarta in 1985.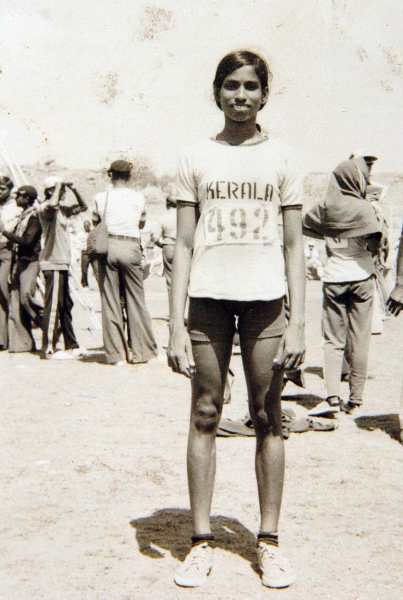 Back in the 1980s, Nambiar wore many hats. He was not just Usha's personal coach but doubled up as a nutritionist, recovery expert and sounding board. Usha knew she would be lost without him.
Before she left for the meet in Kuwait City, she knocked on the door of the Prime Minister's office to convince federation officials to allow Nambiar to travel with her overseas as her personal coach. It was a concept which was unheard of back then.
"There was no scope for a personal coach of an athlete to travel abroad in those days. Only coaches decided by the federation would travel. But I was keen that Nambiar sir travel with me. The Prime Minister (Indira Gandhi) was not in her office but I met PC Alexander (principal secretary) and told him why it was crucial for Nambiar sir to travel with me. Mr Alexander said, 'don't worry, it will be done,'" Usha recalls.
Another fruitful overseas stint for the coach and athlete was at the Crystal Palace Sports Training Centre in London, where the seeds of success for the continental event in Jakarta were planted. Usha participated in the competitive European circuit with Nambiar by her side.
Born in Kannur in 1932, Nambiar joined the armed forces and continued to pursue athletics. He retired from the air force in the early 1970s, completed his diploma from the National Institute of Sports (NIS) in Patiala and joined the Kerala Sports Council.
He was one of the three recipients of the first Dronacharya Award in 1985. However, it was only earlier this year that he was conferred with the Padma Shri.